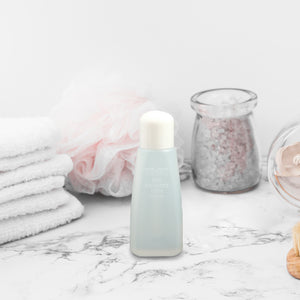 Code : 009  |  135ml Bottle
Specially formulated with Demodicidin herbs, natural moisturizing astringent and nutrient factors which is exclusive to Dr.Qu series. It reaches deep into the skin and effectively wipe out Demodex, as well as providing skin with important nutrients and minerals while maintaining moisture and necessary oil and maintaining a balance pH for a healthy skin (pH-value 5.0 - 5.3).

Ingredients
Purified water, Witch hazel distillate, Natural beauty demodicidin, Aloin, Oenotherabinis, Astringent, Lucyoside, Baicalein, Galangin, Extensin, Hippophae rhamnoidis, Glycerin, Plysorbate 20, PEG-4, Ceteth-24, DI-Panthenol, Propylene glyol, Natural fruit acid, Anti-aging (SOD) elements, ElAllantion, Multi-trace elements, Multi-anuino acid, Dissoduim EDTA, Sodium hydroxide.
Direction for use
Wash face and neck with DR.Qu Facial Cleanser, then apply Dr.Qu Skin Balancing Toner with cotton ball by gently wiping it over face, neck and upper chest (exposure area) in a circular motion. Repeat this twice daily (morning and night) for dry skin. Apply it after shaving to purify and balance the oil and pH-value of skin. Avoid eye area.  If it gets into the eye, rinse thoroughly with water.