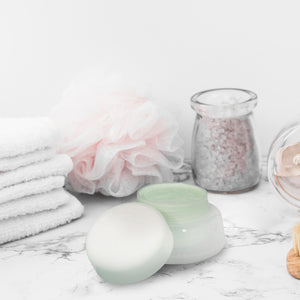 Code : 012  |  40ml Jar
Specially formulated with medical Demodicidin herbs. It reaches deep down into the skin, cleaning and wiping out the Demodex and bacteria, as well as purifying and hydrating skin, and exfoliating dead cells. It is also effective for pimple and black head (especially in T-zone), and initial pigmentation as it provides skin with important nutrients, natural moisturizing, astringent and boosts cell renewal. (pH-value 6.0+/-).

Ingredients

Purified Water, Glycerin, Octyl Palmitate, Cetearyl Alcohol, Propylene Glyol, Natural Demodicidin, Glyceryl Stearate, Benzyl Alcohol, PEG-60 Hydrogenated Castor Oil, PEG-100 Stearate, Natural Fruit Acid, Tea Tree Oil, Ginseng Extract, Sodium Hyaluronate, Methyl Paraben, Propyl Paraben, Liquorice Extract, Vitamin-C, Vitamin-E, Cetyl Alcohol, Disodium EDTA., CI 77891, CI 77492.

Direction for use

After using Dr.Qu Facial Cleanser, massage a small amount of Dr Qu Moisture Facial Mask onto cleaned face and neck in a circular motion gently, then leave it on for 5 - 15 minutes before rinsing it off with lukewarm water. It is suitable for all age groups and skin types. Apply once or twice a week.

Attention:
Use Dr.Qu Balancing Toner / Moisture Active Cream after using the Moisture Facial Mask. If there are more Demodex or Acne Rosacea/Acne Vulgarize or Gain Itch or more Acne Pimple,  use Dr.Qu Facial Cleanser / Special Cleansing Bar with lukewarm water to remove dirt and grease, then gently massage mask on the affected skin areas and leave on skin for 15 - 20 minutes, then rinse away.